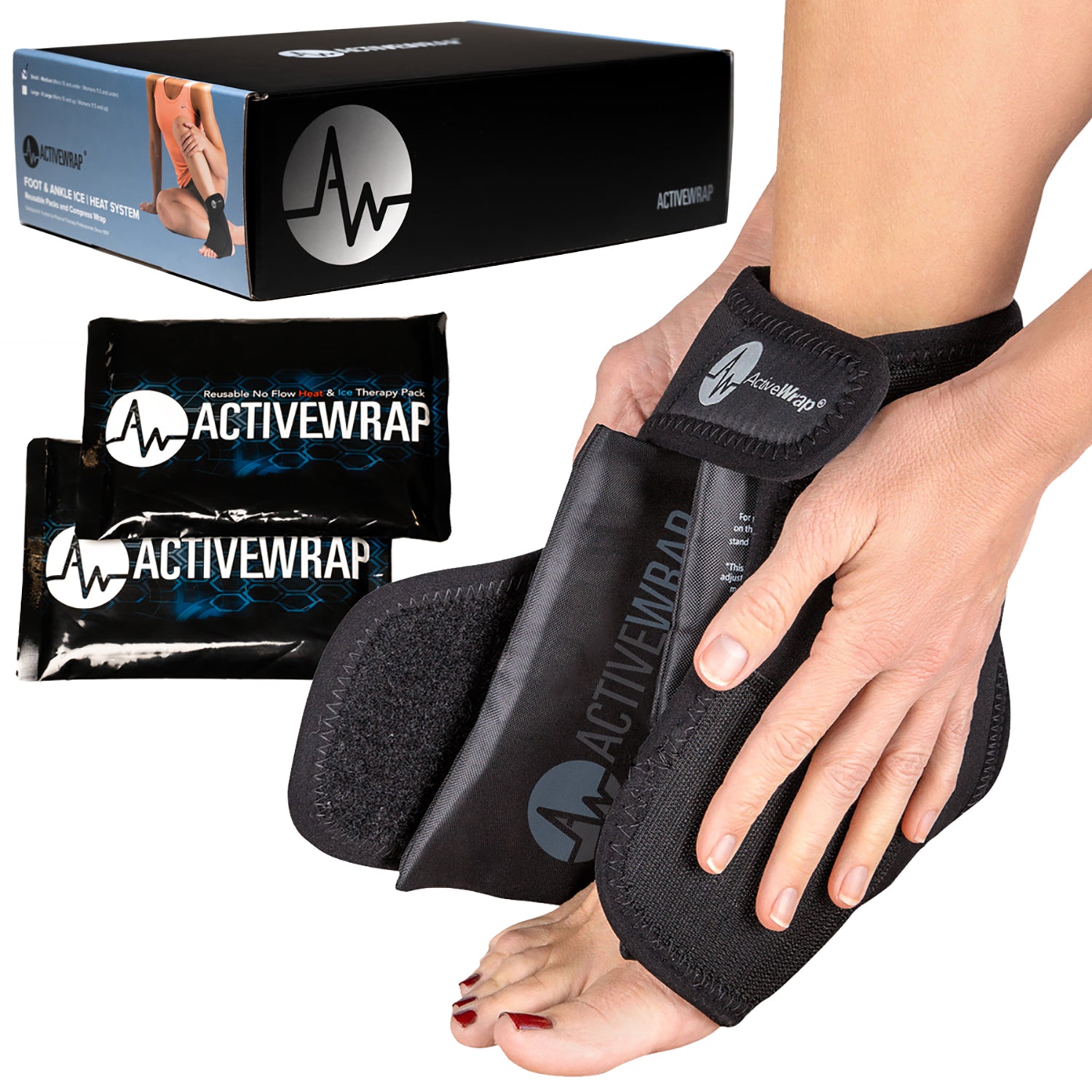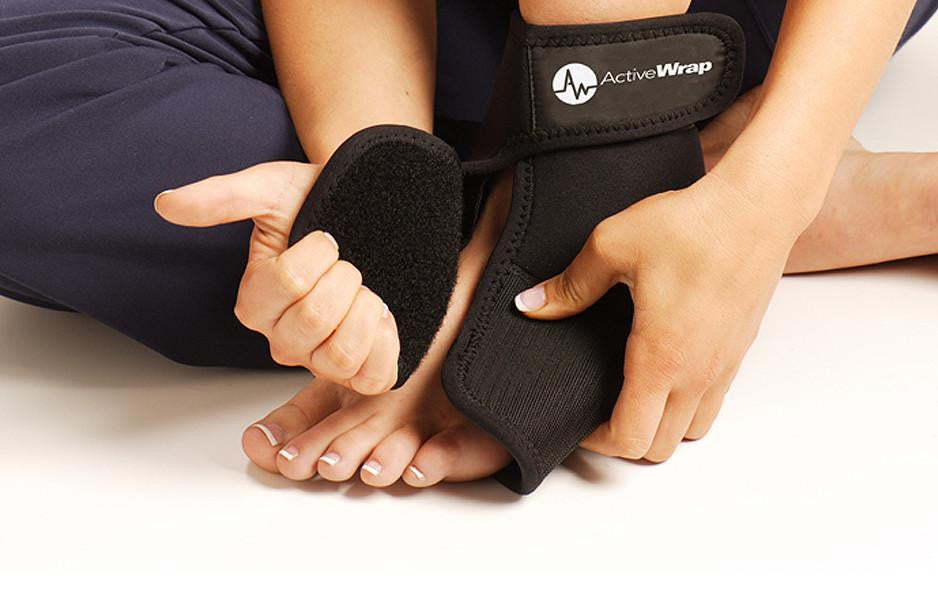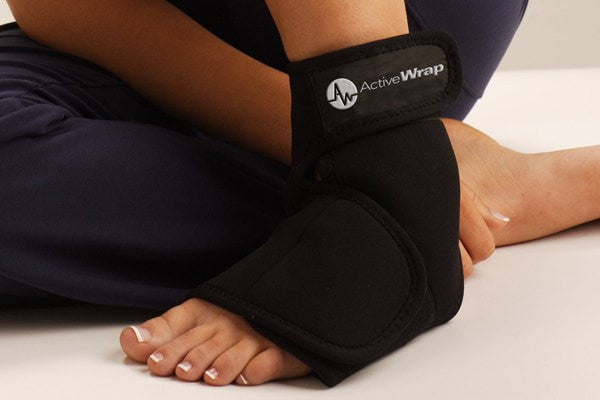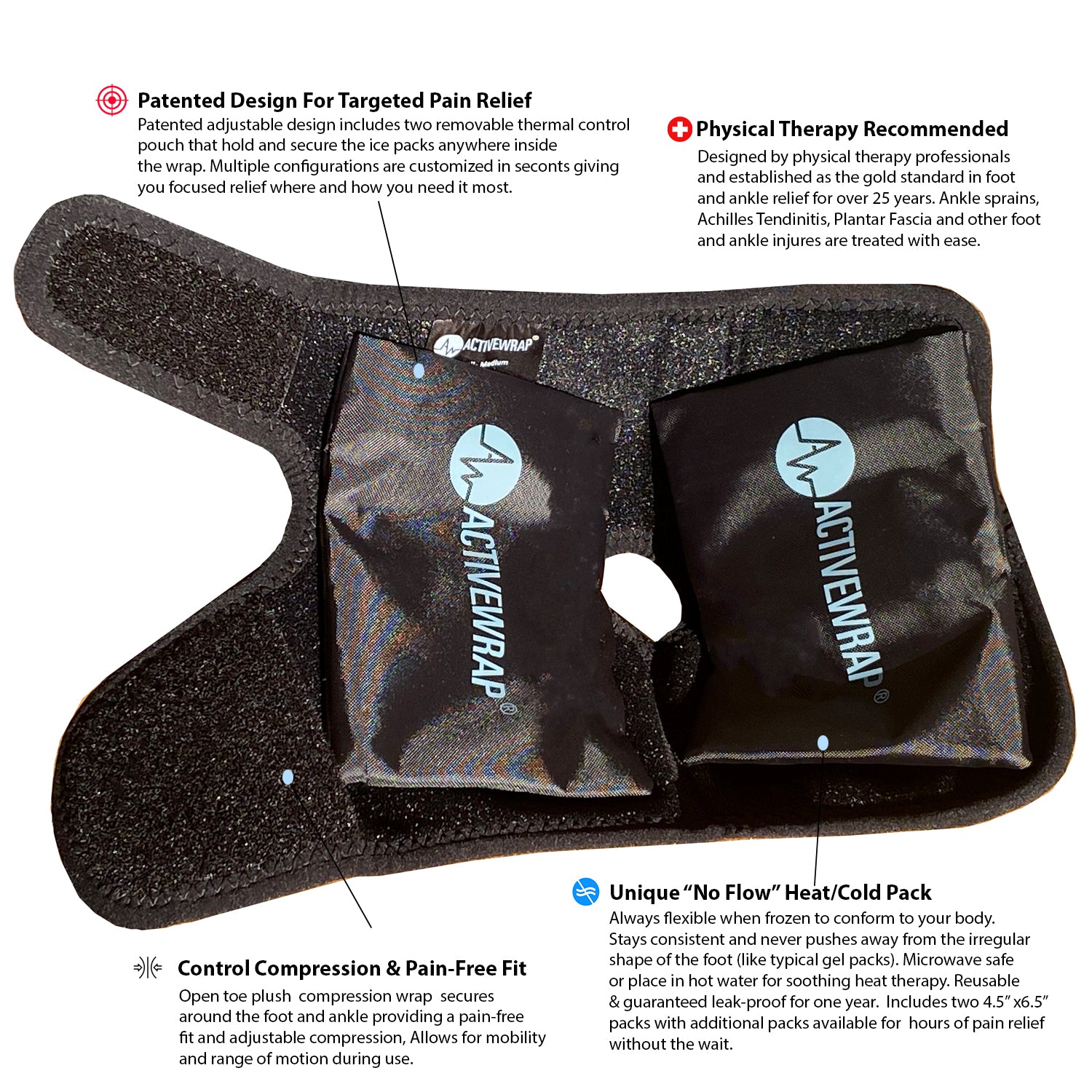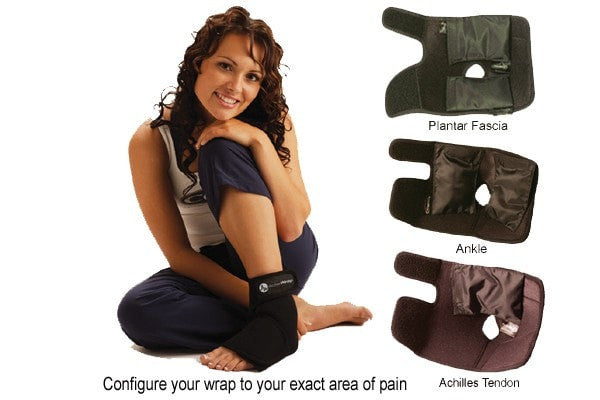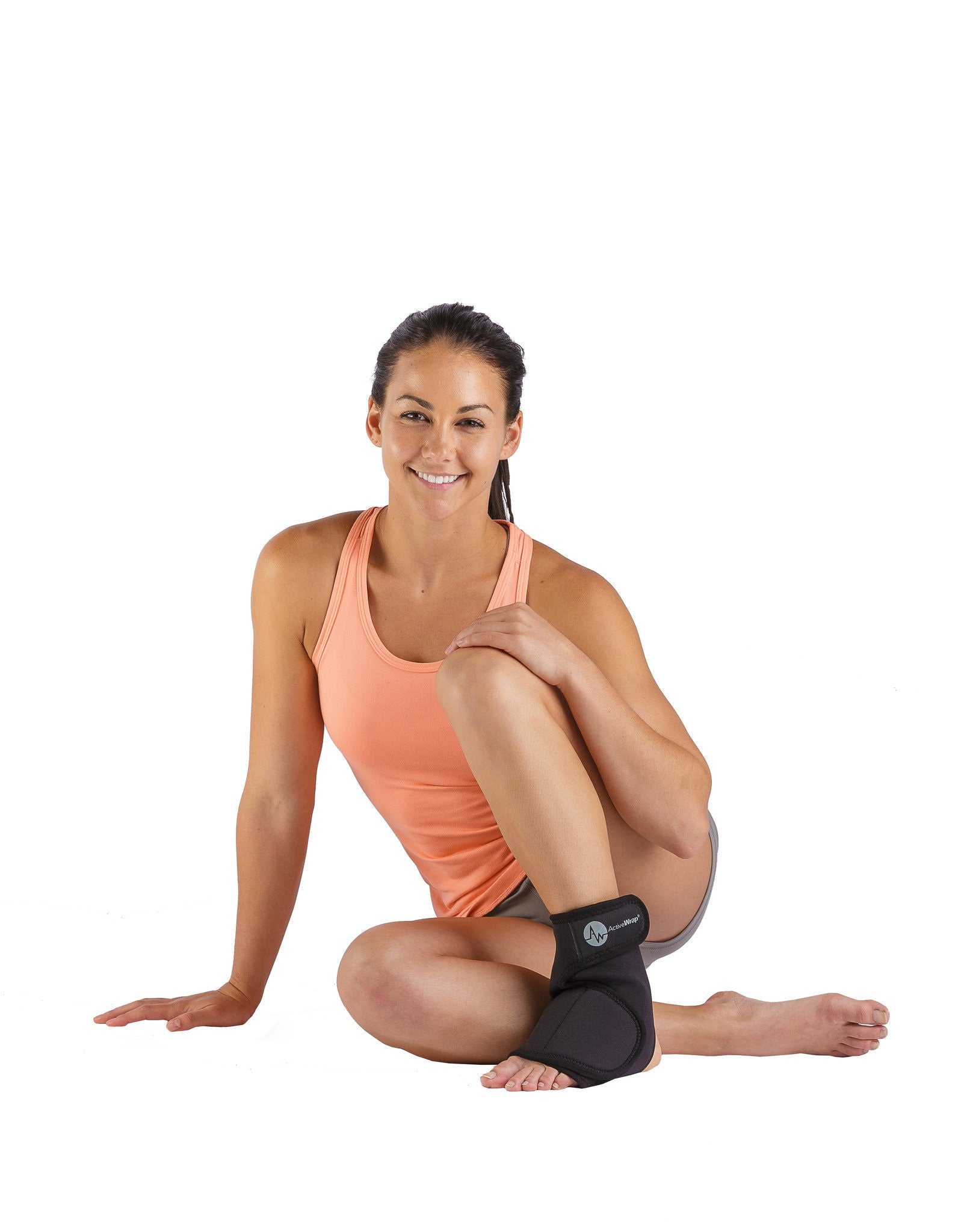 FOOT | ANKLE Heat & Ice Wrap | #1 Original Ankle Sprain Relief Ice Wrap
The Original & Best Foot Heat & Ice Pack 25 Years & Counting! 

Ankle Ice Wrap with Targeted  Cooling for Fast Effective Foot & Ankle relief.
The ActiveWrap® Foot Ice Pack | Foot Heat Pack. This professional foot pain relief system includes two reusable heat & ice packs, as well as a foot therapy wrap that can be assembled and secured in any configuration to help reduce foot and ankle pain. With our ice pack for ankle injuries and foot pain, you're no longer limited to traditional built-in sleeve designs that leave you struggling to treat your exact area of pain. The ActiveWrap foot heat wrap can be custom-fit to mold around the foot and ankle, and the "no flow" flexible ice in our foot ice wrap doesn't push away from the point of contact when compressed. Registered with FDA. FSA|HSA Eligible.
The ActiveWrap® foot & ankle ice pack delivers targeted pain relief without the mess or inconvenience of ice cubes and ice machines. The reusable foot ice wrap delivers a soft conforming treatment every time that never pushes away from your foot injury. No need to wrestle with bending a rock hard ice pack around the bony areas of your foot and ankle. ActiveWrap® ankle and foot therapy wrap contours and conforms to all areas with soothing comfort. ActiveWrap's proprietary "no flow" heat and ice pack for ankle pain relief provides interval contrast heat/cold treatments, which is effective in the post–acute phase of injury. ActiveWrap® is the patented original and only ankle and foot therapy wrap that allows you to create any configuration inside your wrap.
BUILT FOR COMFORT, EASY SELF-APPLICATION AND MOBILITY - Ease ankle pain, arch pain, Achilles pain, heel spurs,swelling and injury while staying mobile with our foot and ankle ice pack wrap. This open-heel foot ice pack is designed with 2 adjustable compression straps that drive the heat/ice deep into the surrounding foot/ankle/arch for fast-acting relief.
ALL-IN-ONE FOOT AND ANKLE WRAP - Use the foot wrap for hot & cold therapy with compression. Our ankle ice pads stay pliable when frozen, giving optimal coverage around your knee. The ankle ice pack also has dual pockets to easily control and adjust the desired temperature and shield your skin.
STAYS SOFTER & COLDER LONGER - The 2 ice packs for feet have a leak-proof proprietary flex gel that don't spread or push away while in use. So, the target area gets a more consistent therapeutic temperature. Packs also provide the dual benefit of heat therapy through the use of microwave or hot water heating.
LEFT AND RIGHT FOOT SUPPORT - Our ankle wrap has a universal fit and ergonomic design that fits either foot. Packs can be placed at top,bottom,sides and back of the foot. This ice pack for feet is available in Small/Medium (women's: size 5-11.5; men's: size 10 and under) and Large/X-Large (women's: size 12 and over; men's: size 10 and over).
DESIGNED BY PHYSICAL THERAPY PROFESSIONALS - This foot ice pack wrap delivers a conforming, custom fit for various body types and various foot injuries. The combination of our wrap and ice packs drives cold deep with maximum skin contact for maximum foot and ankle relief.
Specifications:

Inside each ActiveWrap® Foot & Ankle Heat & Ice Wrap you will find two reusable 4.5" x 6.5"
small heat and ice packs
 and matching adjustable temperature control covers for each pack.
* Please note drawstring storage bag shown in video is discontinued at this time.
The foot and ankle compression wrap is constructed with a  medical grade fabric blend. High quality hook|loop fasteners and flat-lock stitching finish the wrap for superior comfort and durability. Reusable ice packs for feet are 100% non-toxic, microwave safe, and guaranteed soft | leak-proof. Our ankle ice pack system is latex free.
Our Foot Heat Wrap is Exceptional for:
Ankle Sprains
Achilles Tendonitis
Heel Spurs
Plantar Fasciitis
Sever's Disease
Post op Foot Pain
Sore, Swollen or Arthritic Feet
Running injuries and recovery
*
If you are looking to treat just the top  of the foot out to the toes (and have a foot smaller than size 10) choose our
Wrist | Hand wrap
for a great petite alternative.  Many of our physical therapy pros use this trick with great results.
As always, there is no risk. If you are not completely satisfied with your foot and ankle ice wrap upon receipt, we will refund your order immediately.